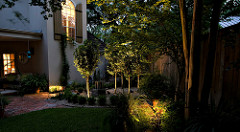 You've worked all winter to have your yard fertilized and ready for spring. Why let the beautiful work be hidden in darkness?
Yard lighting is an inexpensive way to make your home more inviting and show off your lush grass.
Lighting is also a great security measure for you and your family. Consider motion activated sensors for especially dark areas that entice unwanted guests.
Show off your lawn and protect your family by calling us today!