Part 2 of Stinging Insects in your Yard is all about paper wasps, yellow jackets, and baldfaced hornets. These creatures are also important for pollination, just like bees and can also help with pest control in your garden and yard. However, they can also be very dangerous if you stumble into one of their nests. Here are some facts about these stinging creatures.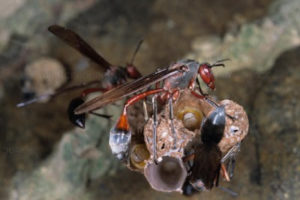 Paper Wasps: Paper wasps can be red, brown, or black. They grow to about 3/4ths of an inch long and like to eat nectar and take caterpillars to feed their young. Paper Wasps form a papery nest that looks like an upside down umbrella. They are very protective of their nest and will attack if they feel it is being threatened. They often build their nests under the eaves of a building which can be dangerous to humans.
Yellow Jackets: Yellow jackets are yellow and black and have a very small waist. They also feed on nectar and fruit just like paper wasps but also hunt insects to feed the growing larvae. Many times they live in an abandoned rodent hole in the ground, but they may also hang their nests from trees, bushes, or under eaves. The nests can be the size of a basketball. Their stings are very painful and they can sting you multiple times. Although they don't aggressively seek you out to sting you, they are very protective of their nest and are very sensitive to sound and vibrations so mowers or other loud equipment close to their home can upset them.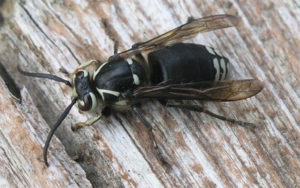 Baldfaced Hornets: Baldfaced Hornets are black with a white face. They grow to nearly an inch long and are bigger than yellow jackets. They are only a hornet by name and are in the same family as yellow jackets. They usually make their nests hanging from trees or an area with lots of foliage, but they can also build their nest in siding or under the eaves of a building. Baldfaced Hornets, like other stinging creatures, will attack if they feel threatened especially if you get too close to their nests. They can sting multiple times and any loud sounds or vibrations can upset them causing them to attack.