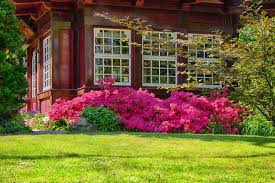 Is your yard ready for spring? Here are some quick tips to make sure your lawn is looking its best this spring.
Clean up your yard – Chances are over winter your bushes and hedges have started looking a bit untidy. Now is the time to get them trimmed back before they start to grow. Remove fallen sticks and branches and clean up any remaining leaves so that the fresh green grass can grow nicely in your yard.
Apply fresh mulch or pine straw – Mulching has many great benefits for your flower beds: a generous application helps block weeds from growing through the mulch barrier, it helps the soil retain moisture during any dry times during the spring and summer, and it also adds important nutrients to the soil. Besides these practical benefits, mulching gives your yard a nice finished look.
Check your sprinkler system – Now is the time to make sure that your sprinkler system is working properly. Turn it on and make sure that there are no leaks in the water lines. If you see any water pooling or bubbling in the grass you may have a break. Check the sprinkler heads and nozzles. Sometimes they get buried or blocked in the grass and ground. It's also a good time to replace the batteries in your controller.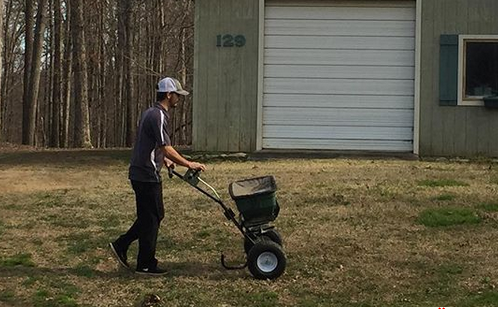 Overseed, fertilize, aerate, or apply a pre-emergent based upon your specific lawn – If you have any bare spots in your yard or want to make your current grass thicker or greener, overseeding is a good idea. Another way to green up your grass is by applying a fertilizer in the early spring just when the grass begins to grow. Aeration is when little plugs of dirt are removed from the soil. This has many benefits including reduced water runoff, thatch breakdown, and keeps your grass from getting as stressed during hot and dry times during the summer. A pre-emergent help weeds from sprouting and growing in your yard. Knowing what treatment or combination of treatments is best for your yard can be a bit tricky. Give Nichols Lawn Services a call and one of our lawn care technicians will recommend what's best for your yard and it get it taken care of for you.
Plant some fresh flowers – Flowers are an instant and inexpensive way to make your yard look like spring. You can really use your creativity by choosing different colors, heights, and textures. Just make sure to pay attention what amount of sunshine or shade the flower prefers and place them in your yard accordingly.
Nichols Lawn Services can help you with any or all of these items. Give us a call at 864-236-4071 or send us a message at NicholsLawnServices.com and we'd be happy to help you get your lawn looking top notch for spring.